Consumer Electronics, Fun Stuff, Gadgets
Camera Detector Lens Frequency Finder
2,418 Orders
In Stock
(Ships Out Within 24 Hours)
Easy to operate

Alarms when a camera is detected

Handy and portable
Can detect any kind of camera

Frequency range: 1MHz-6500MHz

Power supply: built-in 280mAh lithium battery

Charging mode: power adapter

Product Size: 11.5 x 4.5 x 1.5 cm
Package List:

1 x Camera Detector

1 x Power Adapter

1 x Headset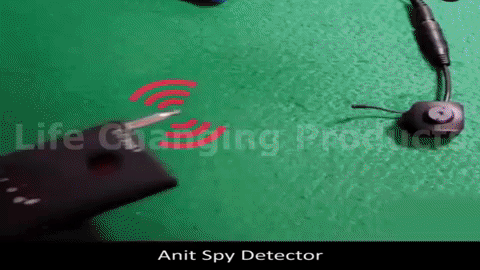 $44.90
& Free Shipping Worldwide
Camera Detector Frequency Laser Finder
If you wish to double your security during occasions and you do not want any camera or hidden cameras around, get the Camera Detector Lens Frequency Finder. This device will surely find any kind of camera even the smallest ones! This will make sure that any event will be safe from recording and will be private only.
How Does This Camera Finder Work?
This detector uses laser frequency to find camera lenses. It uses flashing LED lights to make camera lenses light up. This is very simple to use which you only need to hold up to your eye and activate it while looking around the room. You can look at different areas and you have to be slow and careful so you can make sure you do will not miss a thing. Think and assess where your hidden cameras can possibly be positioned. Once you find one, a camera lens will light up in the detectors viewfinder. It is really easy to use and to spot one on actual!
This detector will make a beep if it finds one. Once you hear a sound, it is giving you a hint that there is a possible hidden camera nearby. But this is only possible for a camera which is turned on which allows the transmitting signal on the detector.
For Security Efficiency
A camera finder is a great device for monitoring securities to different events. This is perfect for private conferences and meetings which prohibits recording and capturing photos. This can also be used on private party events where known people are attending. For hotel and other establishments like banks and fitting rooms on malls, a lens finder is very helpful too. You can be sure that no one is recording or watching you in a close room once you use this device first to check around.
| | |
| --- | --- |
| Weight | 0.12 kg |
| Dimensions | 8 × 7 × 6 cm |