Bar Accessories, Convenience, Kitchen, Reuseable
Bottle Pourer Plastic Soda Spout
In Stock
(Ships Out Within 24 Hours)
Plastic handle bottle pour for bottled beverage
Fits most soda and water bottles with a screw-on cap
With practical handle for easy pouring
Reusable, made of a durable safe plastic material
Can be used for water, soda, or juices
Length: 25 cm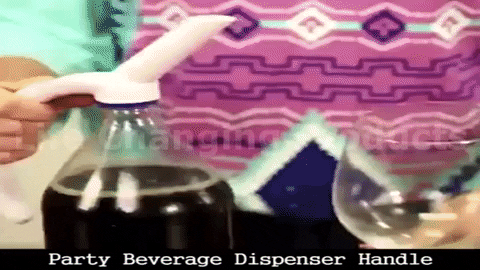 $35.00
& Free Shipping Worldwide
Bottle Pourer Plastic Soda Spout
Soda is one of the beverages which you can always have at home. It is one of the choices you always serve when you have guests and party. But pouring bottled sodas directly into a glass can be sometimes a messy situation. The Bottle Pourer Plastic Soda Spout lets you do this easier and cleaner!
Easy and Durable Design
This bottle spout pourer transforms the bottle to be an instant pitcher. All you have to do is screw this pourer on the bottle spot and you can now pour drinks without a mess! It has an angled spout which makes pouring very easy and convenient. The best part is it has a practical handle so you don't have to lift the bottle up from its body. Just hold it in the handle, lift it up, and pour yourself a drink! Great for all kinds of plastic bottled drinks, may it be a juice, soft drinks or even water. Instead of transferring it to a pitcher, you can save the use of additional dishes buy just attaching this spout.
Durable and High-quality
Made of premium quality plastic material, this ensures durability even after years of use. The materials used are all food-grade quality, non-toxic, and very safe to be used for your drinks. It is lightweight but is durable to use, which can lift your drinks up by its handle. You can easily store it in your kitchen drawers after use. Very easy to clean, simply wash with soap and rinse with water and dry.
| | |
| --- | --- |
| Weight | 0.07 kg |
| Dimensions | 15 × 10 × 5 cm |
| Drinkware Type | Water Bottles |
| Feature | Stocked |
| Certification | CIQ |
| Water Flowing Method | handle |
| Style | handle |
| Color | white |
| Material | plastic |
| Length | 25cm |