Fun Stuff, Popular
Cap Launcher Bottle Opener Keychain
367 Orders
In Stock
(Ships Out Within 24 Hours)
Funny and clever way of opening bottles

With a projection of over 5 meters

Ideal gadget for breaking the ice at any parties or simply aim for the trash

Pop the cap, aim, fire, then just sit back and enjoy your tasty beverage

Also comes with a convenient keychain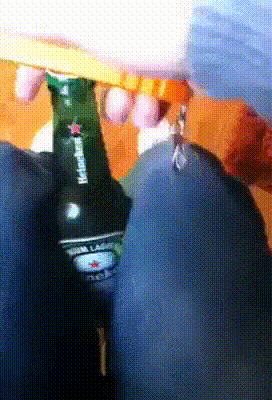 $26.68
Free Shipping Worldwide
Lifetime Warranty
Cap Launcher Bottle Opener Keychain
Have a little fun after opening your drinks with this Cap Launcher Bottle Opener. Instead of just letting the cap fall on the floor, have a little fun game and launch the cap to the garbage can with this Cap Launcher. Nothing serious but this clever keychain is mainly for just opening bottles but just with an included fun after!
Easy and Fun to Use
Where else can you see a bottle opener just like this? It is so genius and funny! You just simply pop open your bottle and the cap will go inside this device. Then aim wherever you want it to hit, then launch! The cap will quickly come out in just a push of a button. It can go a very long way up to 5 meters! But always remember to always use it safely and avoid to aim people! The cap can still hurt, this is just for fun.
Bottle Opener and Keychain 2in1
You can have an on-the-go bottle opener anywhere you go. You can never be so ready for any party and drinks if you have this super cool product. You can conveniently bring it with you, hang it with your keys or hang in your bag. It is very lightweight and very small which fits comfortably in your hand.
Perfect gift idea for your family and friends who loves to drink and attend parties! This will bring fun to them for sure.
| | |
| --- | --- |
| Color | Black, White |
| Size | S, M, L, XL, XXL |