Convenience, DIY, Outdoors and Camping, Popular, Reuseable, Sports Accessories
Bike Chain Cleaner Degreaser Tool
In Stock
(Ships Out Within 24 Hours)
For cleaning bicycle chainrings, freewheel, cgs, etc.
For all kinds of bicycle model whether single or multi-speed
With practical handle for easy use
Made of durable plastic exterior
Firm brush inside for effective cleaning
Size: 135 x 73mm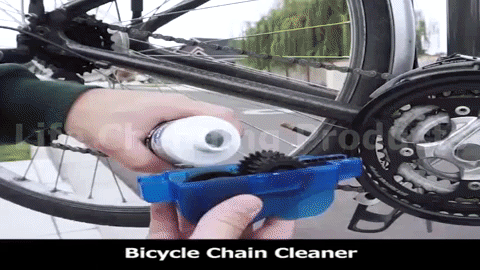 $26.88
& Free Shipping Worldwide
Bike Chain Cleaner Degreaser Tool
Keep your hands clean from grease with the Bike Chain Cleaner Degreaser Tool. This cleaning tool helps you clean your bicycle chain without making any mess. Cleaning it is already a tough job, and you don't want to add the part of the need to remove grease from your hands. Super convenient tool for cyclists in making life easier.
Handy and Convenient
Even if it is chainrings, freewheel or cogs, this cleaner will totally make it clean in no time. For chainrings, simply put the chain inside the cleaner and rotate the chain using the pedal. Keep on rotating it until satisfied on the cleaning result. Doing so will make your hands free from grease, more convenient than using an ordinary brush. All the dirt and grease will be removed by the brush inside the cleaner. All sides inside have brush bristles which make the cleaning very effective. Perfect use for multi-speed bikes or for single-speed bicycle models.
Durable Construction
Made of premium plastic materials, the exterior will guarantee quality and durability. It has a practical handle for safe and easy use. It will keep your hands from getting dirty. Parts can be disassembled to be able to be easily clean them after use. Inside has brush all over it which made durable and firm enough for cleaning. It will remove all dirt and metal particles which may block the chains from working.
| | |
| --- | --- |
| Weight | 0.17 kg |
| Dimensions | 20 × 10 × 5 cm |