Cars, Convenience, DIY, Featured Products, Outdoors and Camping
Bicycle Pump Foot Pedal
In Stock
(Ships Out Within 24 Hours)
Has a small size and is compact; perfect for bringing anywhere
With a specialized pedal, it uses your feet to pump air
Size: 55 x 120mm; Tube length: 50cm
Package contents: 1 x Bicycle Pump Foot Pedal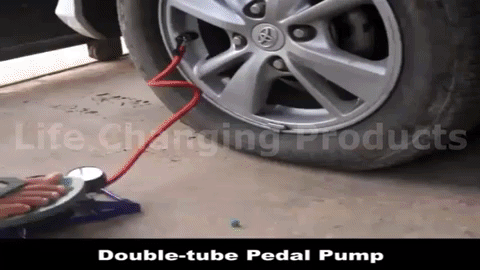 $57.56
& Free Shipping Worldwide
Bicycle Pump Foot Pedal
This Foot Pump will allow you to fill the tires of your bike or vehicle while on the road.
Why It's The Better Pump
Air pumps typically have a verticle design, and you need to pump it manually by using your hands. It is a tiring, gruesome and taxing work especially when your pumping air into a sizeable inflatable object. By the time you're one, it already took the fun out of your single piece of equipment. The Bicycle Pump Foot Pedal eliminates the use of arms because you'll only be using your feet to pump air into a bike by using the bicycle pump. Just settle it on to the ground, attach the pump to the tire holes and step onto the lever for action up to and down pumping. No need to bend over and do the powering up by hand. If you're a person with arthritic limbs, with an injury, or disabled, it's the bike tires that will make your life easier.
Features of the Bike Pump
The bike pump is easier to use because only be using your feet. It has a compact design that allows you to bring it anywhere. The bike pump has its gauge that allows you to see how much air you're using. It is a compact design that only needs to make use of the fee to pump air and doesn't need with air pumping arms. It's ideal for bike tires, and home use. You can use the time to use on inflatables. There 's no need to be rushing when you have this pump because you'll be able to do it on foot and you won't be as tired as much. It is the perfect bike pump for home.
| | |
| --- | --- |
| Weight | 1.07 kg |
| Dimensions | 5 × 12 × 5 cm |