Cake Decorating Accessories, Kitchen
Flexible Silicone Cake Molds (Set of 4)
459 Orders
In Stock
(Ships Out Within 24 Hours)
The Silicone Pan, is a simple, creative way to bakes.

Peels away from your cake easily, no sticking and are dishwasher safe.

Simply place it on a foil lined oven tray.

Pour in your cake mix and place it in the oven.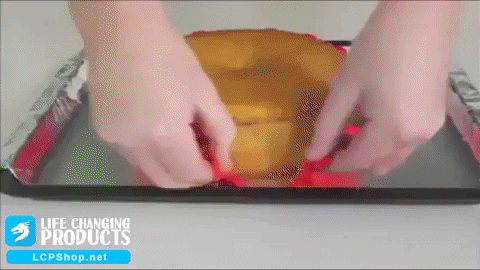 $37.99
Free Shipping Worldwide
Lifetime Warranty
Flexible Silicone Cake Molds
Bake fun creative cake shapes using the Flexible Silicone Cake Molds. This silicone mold can be bent to any shape you want. It allows you to have unlimited fun ideas for how you want your cake to look. You can make a round, heart, square, and more shapes of cake fast and easy. Your new baking buddy is here!
Fast and Convenient to Use
Unlike the traditional molds, you have to purchase different size and shapes to achieve the finished product that you want. But with this mold, all you have to do is bend and flex it to your desired shape and its ready to use! One tool, unlimited shape ideas! Once you already made your desired shape, just pour the cake mix inside and it is ready to put inside the oven. You can be confident that your cake is perfect every time as this will not leak and will stay in its form all throughout baking time.
Durable and Easy to Clean
Made of high-quality silicone, this cake mold is also from food-grade and non-toxic materials. It is heat-resistant and will not lose its form under high-temperatures of the oven. After baking, you just peel it off around your cake and it's done! Your cake will remain perfect and undamaged. You can easily wash this mold too with just soap and water and is dishwasher safe too!
Related products
Bar Accessories, Convenience, Fun Stuff, Gadgets, Home Improvement, House and Home, Kitchen, Outdoors and Camping

Multifunctional Bottle Jar Can Opener 7in1

Convenience, Eco Friendly, Family & Child, For Her, For Him, Gift Ideas, Health And Beauty, Kitchen, Reusable

Fruit Infuser Water Bottle 700ml