Cars, DIY, Fun Stuff, Gadgets, Gift Ideas, Popular
Auto LED Car Light System
3,195 Orders
In Stock
(Ships Out Within 24 Hours)
Four pieces of LED strip lights that you can use to decorate your car
Programmable lights to sync with your favorite music
These lights are waterproof at IP67
Control these lights from an app in your smartphone
Two sizes available: 60 cm x 90 cm, and 90 cm x 120 cm
Package contents:
2 x 60 cm + 2 x 90 cm (4pcs), or
2 x 90 cm + 2 x 120 cm (4pcs) and
1 x Wireless Control Box Module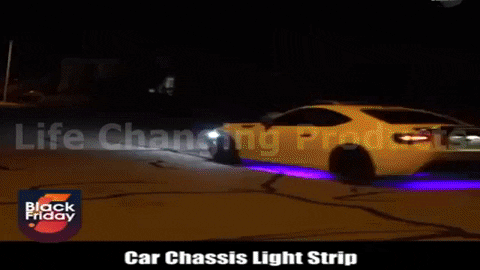 $55.98 – $59.98
Free Shipping Worldwide
Lifetime Warranty
Auto LED Car Light System
Auto LED lights are plenty in the market. There are so many that you can buy to make your car snazzier than usual. The Auto LED Car Light System lets you decorate your car to make it more unique.
Why It's Different
LED lights are taking over modern homes today, and it's easy to see why. They consume less power and still produce the kind of lighting we grew up to viewing. These lights are just as bright, and manufacturers are on a creative streak producing LED bulbs that emit different colors of light. You can see them everywhere, LED lights in homes and businesses. But why not in cars, too? It's still possible to apply auto LED lights underneath your car's body. Imagine taking a special someone out on a fancy dinner you both came out of a vehicle that's glowing from the underbody. And these lights move in sync with your favorite music, too. These flexible LED strips add more style and more oomph to your get up. It's one of the best ways to let people know "I have arrived!".
Versatile Lights
You may also install these lights inside the car. The lights have sensors that "move" according to the beat of the music. Because it's bendable, you can fix it in different ways to make it work for your taste. Place it also under foot-wells, wheel arches, in the trunk, at the dash and more. It produces various colors of red, blue, green, yellow, teal, and white. There are two sizes available: the 60 cm by 90 cm, and the 90 cm by 120 cm. It has a voltage of 12V and a wattage of 6W. The lights are also waterproof at IP67. You can control the colors, the dimming, and settings through a smartphone app with a voice control prompt.
| | |
| --- | --- |
| Weight | 0.7 kg |
| Dimensions | 20 × 10 × 5 cm |