Consumer Electronics, DIY, Fun Stuff, Gadgets
Arduino Robot Drawing Arm Clock
2,832 Orders
In Stock
(Ships Out Within 24 Hours)
A creative robotic clock that writes and erases the accurate time
Uses a dry erase marker to write time
Material: Acrylic plastic
Package contents:
1 x Arduino Robot Drawing Arm Clock (Unassembled)
3 x 9g Servo
1 x Uno R3
1 x Extention Board
1 x USB Cable
1 x screw set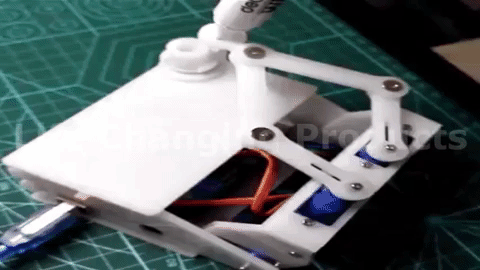 $77.90
Free Shipping Worldwide
Lifetime Warranty
Arduino Robot Drawing Arm Clock
An Arduino robot has a new form, and this time, it's a time telling invention. The Arduino Robot Drawing Arm Clock is a new way to tell the time and observe how robots work when programmed.
A Fun Way Of Time-Telling
We are at the digital age where robots are emerging. Thanks to the continuous development in this kind of technology, we are gradually climbing the ladders of artificial intelligence to aid in human progress. Many are becoming fascinated with robots, and it's not really hard to know why. True, they are only as intelligent as the human creators, but that's precisely why many want to test their own skills in building and programming one. This kit, for example, is a programmed robot that needs robotic arms to draw and erase the exact time from the hours down to the minutes. It's equipped with a dry erase marker and an eraser.
Smart Parts
The robot writes the hour and minutes then after sixty seconds passed. It will shift to the eraser that locks with the pen at first to erase the old time then write the new one. This repeats every time after a minute. The kit has a microcontroller where all the programming is. A laser cutter or 3D then is needed to create some of the necessary parts to make it work. If one is experienced with 3D printers, it will need to build through plastic fillers. This robotic kit will train your problem-solving skills and analytical thinking. You may also want to make this with a child who is curious about robots as a way of bonding. It could also develop his wonder and curiosity for robotics. It is an enjoyable hobby for those who like to work with their hands. Treat yourself to this exciting robotics kit.
| | |
| --- | --- |
| Weight | 0.22 kg |
| Dimensions | 22 × 16 × 6 cm |