Convenience, Fun Stuff, Kitchen
Anti-Cut Puncture Resistant Gloves
463 Orders
In Stock
(Ships Out Within 24 Hours)
One pair (2 gloves)

Durable, cut resistant and stronger than leather. 

Superior grip with a snug fit for all hand sizes.

Lightweight and comfortable protection without the bulkt, EN388 level 5 cut resistance.

Ideal for cutting, slicing, peeling, and grating in the kitchen, wood carving, oyster shucking, carpentry, gardening and so much more.

Color: Random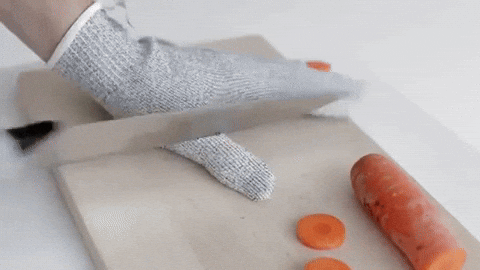 $45.00
Free Shipping Worldwide
Lifetime Warranty
Anti-Cut Puncture Resistant Gloves
No more nicks and scratches. Use a durable and strong Anti-Cut Puncture Resistant Gloves hand protection in the garden, kitchen, wood works and even the workshop. Great for cutting, peeling, grating without any chance of cutting or scratching your hands. Work freely without the worry of splinters or accidents.
High Abrasion Ability
Anti-cut gloves contain a composite filament fiber blend offering excellent dexterity and touch sensibility.
Lightweight composite yarn cut proof glove with foam nitrile coating for better grip.
Tactile and natural feel, no need to remove these gloves when using your tablet or smartphone!
Comfortable to Wear
Perfect and comfortable feeling while in hands because it is breathable, highly elastic, lightweight and comfortable. Has superior grip with a snug fit for small and large hands.
Experience a flexible operation. Not too hard on hands and with no sliding. The special high elastic nylon is blended to make the gloves fit your hand so well.