Featured Products, Reuseable, Tools
Double-Sided Adhesive Tape Nano PU Gel
In Stock
(Ships Out Within 24 Hours)
It can be removed easily and will not damage your walls or surfaces
Keep items in place without slipping
Washable and reusable
Main Material: Nano PU Gel
Sizes: Length: 3m /2m/ 1m; Thickness: 1mm/ 2mm; Width: 3cm
Package Includes:

1 x Double-Sided Adhesive Tape Nano PU Gel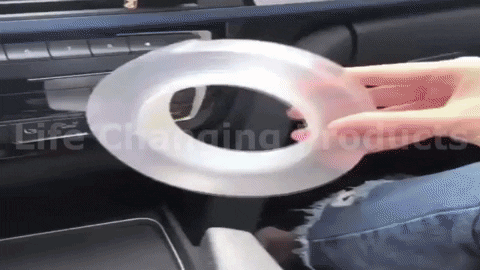 $14.92 – $18.47
& Free Shipping Worldwide
Double-Sided Adhesive Tape Nano PU Gel
If you need adhesive tape, then get this PU gel double sided tape. We need to make our home beautiful, so we do our best to find ornaments that will make our house lovelier. When you need to put decorations on the walls of your home, then this tape is waiting for you. Especially if we have kids at home, we want to make their bedroom magical, and so we put a lot of effort to it. For little girls, we look for unicorns and butterflies decors. But when it comes to little boys, we look for stars and constellations. We want our kids to feel great every time they come home from school or when they go to their bedroom to rest and play. So when you have found the right decors, let this adhesive tape help you put it up.
Washable and Reusable
Parents are going to adore this adhesive tape as it is washable. Plus you will be glad to know that you can re-use it for more than 600 times. The nano PU gel is super strong, so you don't need to worry that it may wear off. When you have an upcoming event at home, and you need to put decorations to all corners of your house. Buy this tape as it will help you. Use this double-sided tape to your advantage. It will help you with the beautification of your home.
Removable and It Will Not Damage Your Walls
When it comes to putting decors on the walls of our home, it worries that it may damage our walls. But with this adhesive tape, you don't have to worry about anything. It is removable and won't damage walls and surfaces. This nano PU gel will keep your items in place without slipping.