Convenience, Kitchen, Popular
Multipurpose 1-Minute Salad Maker 3in1
606 Orders
In Stock
(Ships Out Within 24 Hours)
Made from durable material and unique design.

Clean: Cutting board free, direct making, less hassle. 

Saves you time by allowing you to rinse, strain and chop evenly with less fuss. 

Add your ingredients, close the bowl and start chopping.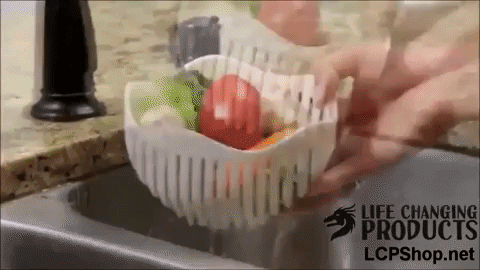 $41.99
Free Shipping Worldwide
Lifetime Warranty
1-Minute Salad Maker 3in1
You don't need many bowls anymore to make a salad because this Multipurpose Salad Maker will enable you to make on in less than a minute! You can rinse, chop, and serve your fruits and vegetable salad using just one bowl. Super fast, easy, and convenient saving you so much time and energy.
Made of high-quality plastic material which is durable and can be used for a very long time. It is very easy to wash and store too. Your solution for making a salad now made faster and easier than ever! No more need of many bowls and kitchen tools, this is your all-in-one salad maker.
Multipurpose Salad Bowl 
Strainer. Rinse your fruits and vegetables using this bowl and you don't have to need you colander anymore. This bowl has vertical holes which make rinsing fast and easy. It is large enough to fit your salad ingredients all together in it.
Slicer. You don't have to cut your salad ingredients one by one because you can put everything together inside and cut them all at the same time. Just place the cap of the bowl, turn it upside down, and start slicing! You can also be able to rotate the bowl to be sure that everything is cut and sliced perfectly. The vertical holes will allow you to cut safely without hurting your hand. The between spaces are close enough to slice your fruits and veggies into thin slices.
Server. After cutting all your veggies, you can just simply turn it backside up and it is ready to be served right away! You don't have to transfer it anymore to another bowl unless you are still making another batch of salad.
| | |
| --- | --- |
| Color | Red&Black, White&Black |