Cellphone Accessories, Convenience, Gadgets, Gift Ideas, House and Home
5-Port USB Charging Station Dock with Mushroom LED Night Light
2,510 Orders
In Stock
(Ships Out Within 24 Hours)
Mushroom shaped night light + 5 USB Ports charger
Input: AC100-240V, 0.5A
Output: DC 5V-6A (Max total)
Output 3A (3.6 v – 6.5 v), 2A (6.5 v-9v), 1.5A (9 v-12v) LED lamp power: 3.5W / 0.7A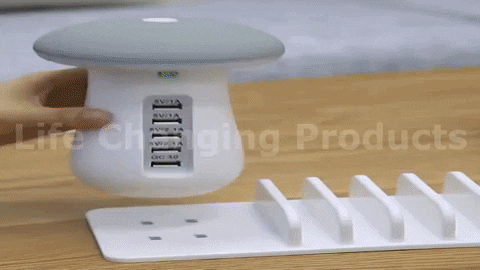 $65.98
& Free Shipping Worldwide
5-Port USB Charging Station Dock With Mushroom LED Night Light
A simple thing like charging your smartphones and tablets is considered a struggle especially if you only have limited resources for outlets. The 5-Port USB Charging Station Dock with Mushroom LED Night Light will let you plug into a single power outlet and afford you multiple USB ports for all your devices. This is the perfect for your charging needs not to mention that it also offers a cute little extra with the lamp that will look good on your desk or your bedside table.
The 5-Port USB Charging Station Dock with Mushroom LED Night Light you can charge up to 5 devices at the same time. Now, you do not have to wait for the next few hours to charge your next gadget. It will be very convenient for you since you can now plug into a single outlet but will give you the power for 5 of your smartphones and tablets. One of the 5 ports is capable of delivering up to 3A which is preferable if you need to hasten the charging time of your device. There are 2 ports capable of delivering up to 2A.
This product is a good addition to your office desk or bedside table. The charging station dock also features a cute mushroom LED night light. This is nice to use for some light reading before bed or while working late in the office. This is available in 2 colors. You can choose from pink or gray. The LED night light will also make the USB charging station dock look a little less techy. It is a good product with a good purpose.
| | |
| --- | --- |
| Weight | 0.55 kg |
| Dimensions | 23 × 22 × 8 cm |