Convenience, DIY, House and Home, Tools
25pcs Portable Mixed Tool Kit Set
In Stock
(Ships Out Within 24 Hours)
For emergency fixing solution at home, in your car, boat, etc.
Kit made of a durable plastic material with safety lock
Tools made of stainless steel material
Includes a removable handheld flashlight
Tools included:

T-handle ratchet driver with bits
Holder extender
9 interchangeable slotted Phillips and hex bits
8X Allen wrench set
4X screwdriver set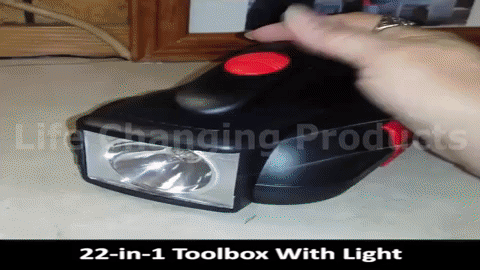 $58.00
& Free Shipping Worldwide
Portable Mixed Tool Kit Set
It is always nice to have a Portable Mixed Tool Kit Set you can use in an emergency situation. This kit has a T-handle ratchet driver with bits, holder extender, Phillips and hex bits, 8-pc Allen wrench set, and screwdriver set. Also, it has a handheld flashlight too! Great for fixing repairs around your home, car, etc.
Compact and Durable Construction
The kit itself made of a durable plastic material which stores all the tools inside. Every tool has a designated place which holds everything in place securely. It has 25 tools inside which will provide you help with fixing repairs in your home, car, garage, etc. It is very handy and in a compact design making it easy to carry around where you need it. Everything will be in place and to have a kit storage for your tools prevent losing the items. Has a built-in lock on top of the kit for safe storage.
The T-handle ratchet is made or rubberized handle which is very comfortable to use. It ensures a secure grip and will guarantee an easy operation while handling. All included bits, wrench, screwdrivers made of stainless steel material. Made of highly durable construction which will be useful for long years. It also has an included flashlight which you can take off from the kit. You will be able to repair things fast and easy even at night using the handheld flashlight.
| | |
| --- | --- |
| Weight | 0.5 kg |
| Dimensions | 25 × 20 × 15 cm |